De laatste tijd zie wij steeds vaker alles-in-1 shakes langskomen op social media kanalen. In plaats van de ouderwetse afvalshakes die te weinig voedingsstoffen bevatten om als volledige maaltijd te kunnen worden gezien, zou je deze shake wel kunnen gebruiken als volwaardige maaltijd. Wij waren erg nieuwsgierig naar deze producten. Hoe makkelijk zou het zijn als je binnen een paar tellen een maaltijd kan maken en naar binnen kan werken én ook nog eens alle voedingsstoffen binnen krijgt die je nodig hebt! Wij hebben een aantal producten van Jake binnen gekregen om te testen.
Over het merk Jake
Wij waren vooral nieuwsgierig wat Jake anders maakt dan andere merken die alles-in-1 voeding op de markt brengen. Jake is een Nederlands merk dat begin 2015 hun eerste volwaardige maaltijden in de vorm van shakes introduceerden. In de jaren daarna hebben ze de producten steeds verder ontwikkeld en verbeterd. Verder hebben zij als één van de weinigen ook repen op de markt gebracht. Wat ons is opgevallen is dat Jake open en eerlijk is. Zo hebben ze op de website ook een forum waar kritische vragen te vinden zijn. Op alle vragen wordt netjes en uitgebreid ingegaan. De producten van Jake worden op de markt gebracht als snelle, makkelijke en complete maaltijden en tussendoortjes. Ook kunnen gebruikers hier hun ervaringen en tips over het gebruik delen. Handig om te weten: De producten zijn veganistisch, lactose-vrij en dier-vrij.
Shakes van het merk Jake
De maaltijdshakes van het merk Jake zijn er in vier verschillende smaken. Oaty Vanilla, Coffee, Forest Fruit en Banana. De voedingswaarden van de vier smaken verschillen iets maar liggen enorm dicht bij elkaar. Je kan de shake aanmaken met 400 ml water. De original shakes bevatten ongeveer 667 calorieën. Bekijk de lijst met ingrediënten via deze link. Je hebt naast de original shakes die wij hebben uitgetest ook een light versie met minder calorieën (500) en een sports versie met meer calorieën (750). Ook wanneer je iets wilt afvallen, aankomen of wanneer je een actieve levensstijl hebt kan je dus een passende shake vinden.
Repen van het merk Jake
De repen van het merk Jake zijn verkrijgbaar in de smaken Forest Fruit, Banana en Coffee Cacao. Je kan de repen gebruiken als een vullend en voedzaam tussendoortje of als een licht ontbijt. Ze bevatten veel eiwitten uit plantaardige bronnen. In de reep zit 25% van de dagelijkse aanbevolen hoeveelheid vitaminen en mineralen. Een reep bevat 333 calorieën.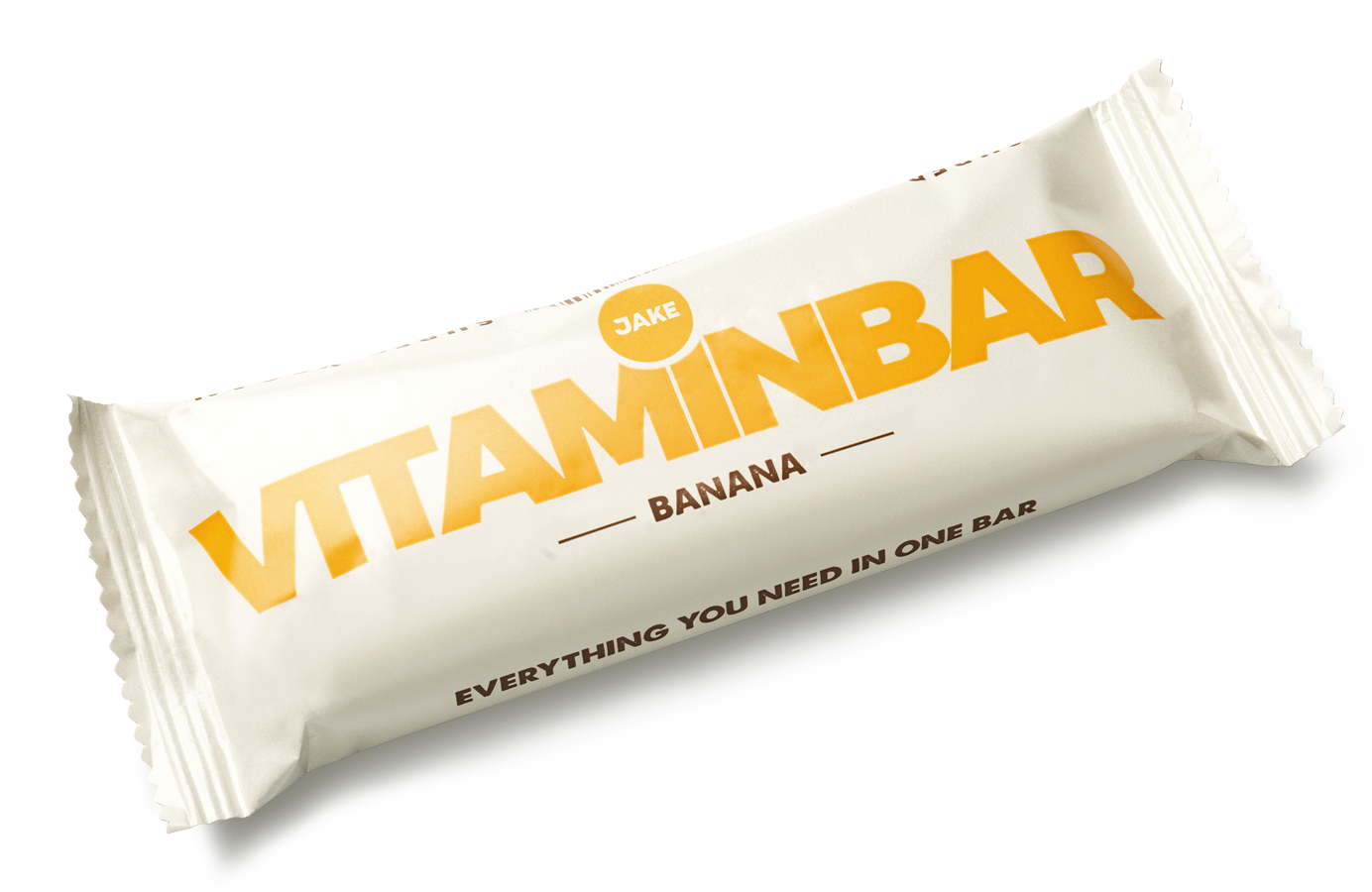 Shake test
Van Jake kregen wij een pakket binnen om de shakes en de repen uit te kunnen proberen. Bij het uitpakken van de producten viel het ons op hoe veel poeder er eigenlijk in de shakes zit. Maar liefst 163 gram!
De eerste keer probeerden we de shake uit als lunch. Hier maakten we eigenlijk de eerste "fout". Qua shakes hebben wij eigenlijk alleen regelmatig eiwitshakes genomen. Deze vonden wij eigenlijk alleen "lekker" als we het in de blender deden met (plantaardige) melk. Om een beetje te kunnen wennen aan deze shakes hebben we de poeder de eerste dag ook in de blender gedaan met plantaardige melk. Eerlijk gezegd was de shake zo dik en heftig dat we maar de helft binnen kregen. Toch zaten we van deze halve shake al best lang vol.
De volgende ochtend besloten we de shake uit te proberen met water. En dat was de oplossing! De shake was nu lekker en qua structuur ook niet heftig meer. Wij hebben er nog twee ijsklontjes aan toevoegd om het wat frisser te maken. Na het nemen van de shake als ontbijt hadden we bijna tot aan de lunch een vol gevoel. Precies de 4 à 5 uur die werd voorspeld door de makers van Jake.
Vitaminbar test
Ook van de repen hebben wij verschillende smaken gekregen om uit te testen. De smaken die we hebben binnengekregen zijn Coffee Cacao, Banana en Forest Fruit. De repen zijn redelijk stevig met een aantal crunchy stukjes. Wij vonden de smaak forest fruit lijken op de smaak van een Liga Milkbreak. De repen zijn best zwaar en vullend. Ideaal natuurlijk voor een flinke snack, maar het kan zijn dat je er even aan moet wennen. Eén redactielid kreeg daarom maar ¾ van de reep op die hij voor een fietstraining had genomen. Wel merkte hij erg het verschil met de "standaard" energierepen. Tijdens de training had hij namelijk geen last van een hongerklop en dat na een klein ontbijt en nog niet eens een hele vitaminbar.
Eindoordeel
De shakes hebben een subtiele smaak die je niet snel zat wordt. Wij vinden het heel fijn dat er shakes zijn met verschillende (niet overheersende) smaken. Na het nemen van de shake heb je een complete maaltijd binnen. Daardoor merkten wij dat we geen trek hadden (bijna) tot aan de volgende maaltijd. Iets waar we wel last van hebben als we tijdens een maaltijd toch iets te weinig calorieën en/of bepaalde voedingsstoffen binnen krijgen. Ook merkten wij dat we door het nemen van deze shakes na de maaltijd geen trek hadden in iets lekkers. De shakes wennen snel qua smaak en structuur. Het "geheim" is volgens ons dat je er goed veel water aan toevoegt. De vitaminbars zijn een flinke hap om weg te krijgen maar vullen enorm goed voor een langere tijd. Ze zijn zeker niet vies, maar we merkten wel dat je er eerst even aan moet wennen.
Probeer Jake nu zelf