Wanneer je met plezier wilt trainen en goede resultaten wilt behalen is het belangrijk om overtraining te voorkomen. Maar wat zijn de kenmerken die je in de gaten kan houden om erachter te komen dat je overtraind bent? Wat zijn de gevolgen van overtraining? En wat kan je doen wanneer je overtraind bent? Wij hebben verschillende bronnen geraadpleegd om achter het antwoord op deze vragen te komen.
Wat is overtraining?
De korte omschrijving van overtraining is: "De belasting die het lichaam door fysieke training wordt opgelegd is groter dan het noodzakelijke herstel". Belastbaarheid is de mate waarin een bepaalde vorm van belasting kan worden verdragen. Bij belastbaarheid wordt er gekeken naar cellen, weefsels, organen, orgaansystemen en het (sportieve) niveau van de persoon. Het kan ook gebeuren dat de belastbaarheid kan zorgen voor bewegingsbeperkingen van één specifiek onderdeel van het lichaam. Bijvoorbeeld wanneer je een blessure hebt en je jouw knie of enkel niet volledig kan belasten.
Hoe raak je overtraind?
Om overtraining te kunnen voorkomen is het belangrijk om te weten hoe je overtraind raakt. Wanneer de belasting groter is dan het benodigde herstel kan je overtraind raken. Vaak gebeurd dit als je te lange of te intensieve trainingen afwerkt zonder een goede rust- en herstelperiode en zonder een goede basis. Je moet eerst voldoende belastbaarheid aankunnen voordat je gaat werken aan snelheid of voordat je afstanden gaat uitbouwen.
Waardoor kan jouw belastbaarheid lager zijn?
Wat veel mensen vaak vergeten is dat de belastbaarheid van het lichaam lager is wanneer je in een stressvolle periode zit en wanneer je slecht (of niet voldoende) slaapt. Bij stress en slaapproblemen zou je de trainingen moeten aanpassen en minder zwaar moeten maken. Uiteraard geldt dit ook voor periodes waarin jouw weerstand lager is bijvoorbeeld door ziekte of bij een zeer ongezond eetpatroon.
Kenmerken van overtraining
Er zijn verschillende kenmerken waar je overtraining aan zou kunnen herkennen. Het lichaam zal zich over het algemeen in een actieve staat bevinden, die actieve staat herken je aan de onderstaande kenmerken. Op deze manier probeert het lichaam de opgelopen schade te herstellen. De onderstaande symptomen kan je ervaren wanneer je overtraind bent:
hoge rustpols
slapeloosheid
slechte eetlust
gewichtsverlies
stijve en pijnlijke spieren
duizeligheid
zweetaanvallen
slechtere motivatie en een slecht humeur
Tijdens de eerste fase van overtraining kunnen onder andere verhoogde creatininekinasewaarde, bloedlactaat en hart-ritmevariabiliteit (HRV) gemeten worden.
Gevolgen van overtraindheid
Overtraindheid zorgt voor een beperkte trainbaarheid en voor de kenmerken die je vindt onder het bovenstaande kopje. Wanneer je een beperkte trainbaarheid hebt kan het lichaam minder goed gebruik maken van het biologische vermogen tot aanpassing en verandering in diverse weefsels. Er vindt dus geen supercompensatie plaats. Na een training wordt jouw lichaam bij overtraining niet sterker of sneller.
Wat kan je doen wanneer je overtraind bent?
Wanneer je overtraind denkt te zijn is het belangrijk om een bezoek te brengen aan de huisarts. Je zou dan doorverwezen kunnen worden naar een sportarts. Sommige kenmerken kunnen namelijk ook een andere oorzaak hebben. Het is dus belangrijk dat de juiste diagnose wordt gesteld.
Het is vooral belangrijk dat je goed rust wanneer je overtraind bent. Wanneer je toch wilt trainen met een beperkte trainbaarheid is het belangrijk dat je traint op een zeer lage intensiteit en dat je de trainingen kort houdt. Bij overtraining is het ook belangrijk om de juiste bouwstoffen binnen te krijgen via gezonde voeding.
Meer interessante literatuur
Vond je deze informatie interessant en zou je graag meer willen weten over onderwerpen zoals overtraining, herstel, belastbaarheid en training? Bekijk dan de onderstaande link en het boek.
Meer over de methodes om overtraining te meten lees je in dit onderzoek.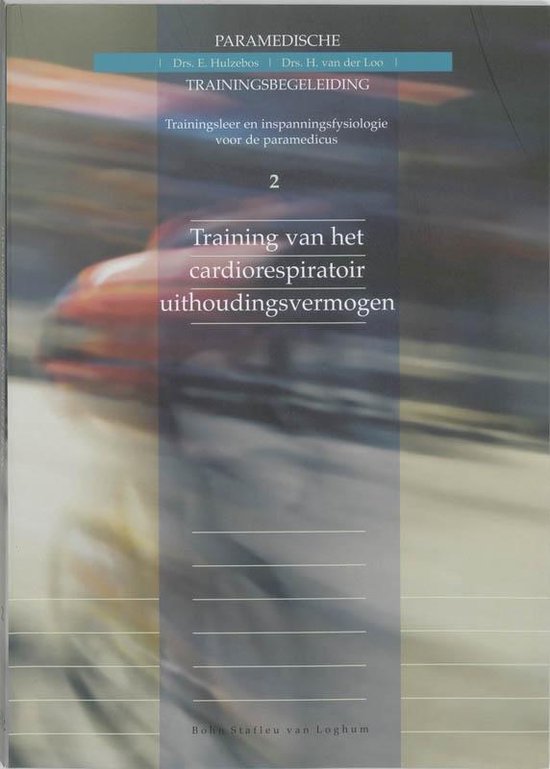 Training van het cardiorespiratoir uithoudingsvermogen
Bekijk
Bol.com
prijs opgehaald op 30 september 2020 16:31