Er zijn verschillende manieren om sneller te worden. In deze blog bekijken we zeven manieren die je kan gebruiken om een snellere hardlooptijd neer te zetten. Natuurlijk moet je niet direct radicaal je hardloop-routine omgooien en alle onderstaande opties tegelijk uitproberen. De volgende zeven tips kunnen je wel helpen om je training vollediger, beter en/of leuker te maken!
Rust voldoende uit voor belangrijkste workouts
Triatleten die sterke zwemmers en fietsers zijn, houden er meestal van om snel te gaan in die trainingen. Wanneer hardlopen jouw mindere onderdeel is moet je geen belangrijke hardlooptraining plannen binnen 24 tot 38 uur na een zware zwemtraining of fietstraining. De zwem- en fietstrainingen voorafgaand aan een belangrijke triathlon-hardlooptraining moeten voornamelijk aeroob zijn of een techniektraining.
Voeg een extra hardlooptraining toe aan het weekschema
Als je momenteel twee of drie dagen per week hardloopt, voeg dan nog een korte aerobe run toe aan het schema. Sommige triathleten vinden dat het toevoegen van een extra run tussen de 20 en 30 minuten goed genoeg is om de snelheid te verhogen.
Verwijder een training van het trainingsschema
Triatleten die nu al vier of vijf keer per week een hardlooptraining in hun planning hebben staan doen er soms goed aan om juist een training te verwijderen van het schema. Op deze manier heeft het lichaam meer herstel en kan je uiteindelijk een snellere hardlooptijd neerzetten.
Voeg een hardloopgericht trainingsblok toe
Veel triatleten hebben een balans tussen het aantal trainingen dat ze in elke sport uitvoeren. Week in week uit. Het is bijvoorbeeld gebruikelijk om elke week twee of drie workouts in elke sport te hebben; zwemmen, fietsen en hardlopen.
Het is gebruikelijk dat gevorderde en professionele triathleten een groot blok fietsen binnen één trainingsblok opnemen. Bijvoorbeeld wanneer ze deelnemen aan een grote fietstocht of toer. Dit type training met een groot volume wordt vaak 'crashtraining' genoemd.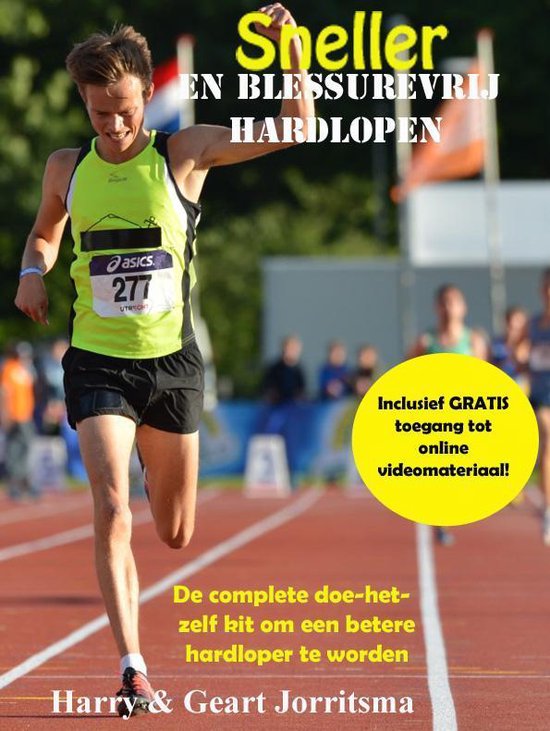 Sneller en blessurevrij hardlopen
Bekijk
Bol.com
prijs opgehaald op 11 augustus 2020 09:58
Dit wordt minder vaak gebruikt bij hardlopen, omdat een groot blok van hardlopen meer risico op blessures met zich meebrengt. Bovendien moet het algehele trainingsvolume worden verlaagd als je besluit een trainingsweek met een focus op hardlopen te maken. Als je bijvoorbeeld 12 uur per week traint met zwemmen, fietsen en hardlopen, is het een laag risico als je in een week alleen maar 12 uur gaat fietsen. Het is echter een groot risico om een week te plannen waarin je meer dan 12 uur zou gaan hardlopen.
Wat je kan doen is een week of twee niet te zwemmen of te fietsen. Of het zwemmen en fietsen alleen te gebruiken als actief herstel voor het hardlopen. De zwem- en fietstrainingen moeten dan minder dan een uur duren.
Als je nu drie dagen per week gaat hardlopen kun je de hardloop-weken beginnen met twee tot drie runs van tussen de 20 en 45 minuten extra. Als je merkt dat je dit volume goed verdraagt, kun je meer uren toevoegen aan het volgende hardloopblok. Ga wel voorzichtig te werk als je een 'crashtraining' blok gaat houden met alleen maar hardlopen!
Pasfrequentie verhogen op de loopband
Voor sommige triatleten is het moeilijk om de pasfrequentie te krijgen die nodig is om de huidige snelheidsbelemmeringen te doorbreken. Het uitvoeren van korte intervallen op een loopband met helling kan snelheidsveranderingen met zich meebrengen tegen weinig metabole kosten. Voer deze trainingen één keer per week uit voor 4 tot 6 weken.
Trackworkouts op de loopband
Voor de niet-doorgewinterde hardloper is het moeilijk om op een baan het juiste tempo aan te houden. Het leidt vaak tot een te snel begin en een vervaging aan het einde van elk interval en tijdens een training. Een goede manier om te leren hoe je een nieuw, hoger tempo vasthoudt, is door het volgen van een training op de loopband.
Begin met een tempo dat ongeveer 8% sneller is dan je huidige racetempo voor sprint- of Olympische afstandstriathlons. Loop niet meer dan de helft van de raceafstand op je nieuwe snelheid. Begin met herhalingen van 800s of 400s en daal af, zodat de kwaliteit hoog blijft.
Om bijvoorbeeld de snelheid op 10 km te verbeteren, zou je de volgende training toe kunnen voegen:
Warm op 15 tot 20 minuten en doe een ​​paar versnellingen van 20 tot 30 seconden
2-3 x 800 (herstelinterval is gelijk in de tijd aan het run-interval);
4-6 x 400 (herstelinterval is gelijk in tijd aan het run-interval);
2-4 x 200 (herstelinterval is gelijk in de tijd aan het run-interval);
Cooling down
Trainen op de atletiekbaan voor een snellere hardlooptijd
Leren hoe je je nieuwe tempo op een stabiele manier kan vasthouden kan goed op de atletiekbaan. Hier kan je elke 100 meter je snelheid controleren. Ook loop je op een vlakke weg en weet je precies wat de afstanden zijn. Met nadenken en plannen kan je het komende seizoen een snellere hardlooptijd neerzetten tijdens het looponderdeel van de triathlon!