Een triathlon bestaat uit eigenlijk uit drie verschillende wedstrijden achter elkaar. Dit is voornamelijk een enorme sportieve uitdaging, maar je moet ook het logistieke gedeelte niet onderschatten. Je hebt als triatleet sportspullen nodig voor drie verschillende sporten. Zwemmen, fietsen en hardlopen vereisen alle drie verschillende uitrusting. Om te voorkomen dat je drie verschillen tassen mee moet nemen, bestaan er triathlontassen. Deze worden ook wel een triatlontas of transitietas genoemd.
Wat is een triathlontas?
Triathlontassen, wisseltassen of transitietassen zijn een soort triathlon-uitrusting. Dit valt niet onder essentiële uitrusting voor een triathlon, maar maakt het leven van een triathleet wel gemakkelijker. Triathlontassen zijn in feite rugzakken die speciaal zijn gemaakt voor de triathlonsport. Dit soort rugzakken worden het meest gebruikt om alles wat je nodig hebt op de racedag op één plek te hebben. Ook worden de transitietassen gebruikt om uitrusting van en naar belangrijke trainingsactiviteiten te dragen. In (online) winkels worden dit soort uitrusting soms in het Engels aangeduid als: Triathlon bag, transition bag (of pack), tri-bag of triatlon-backpack.
Navigeer direct onze favoriete triathlontas
De beste triathlontassen
Wij kijken regelmatig naar de nieuwste tassen online en in de winkel. We testen veel modellen en krijgen ook regelmatig een nieuw model thuisgestuurd om te testen. Op basis hiervan hebben wij de onderstaande lijst samengesteld. We beginnen met onze favoriete tas, gevolgd door de beste koop voor beginners tot gevorderde triatleten.
Zoot Ultra Tri 2.0 Tri-bag: Onze favoriet voor de gevorderde triatleet!
De Zoot Ultra Tri-bag is onze favoriete triathlontas op dit moment. Het heeft alles wat je nodig hebt als beginnende, gevorderde en professionele triathleet. Zo heeft het een heupriem met zak en borstband, een speciaal compartiment voor de helm en een uitneembaar, afsluitbaar compartiment voor natte kleding. Je kan in deze rugzak alles kwijt voor de drie triathlonsporten, plus extra zaken zoals voeding en hydratatie. Zoot is ook een bekend merk van wetsuits voor beginners.
Aptonia overgangstas triathlon: Goedkope optie | Beste voor beginners
Decathlon heeft een eigen merk voor triathlon-spullen genaamd Aptonia. Op het moment van schrijven (begin 2020) is de lijn vernieuwd en heeft het een aantal leuke nieuwe producten voor triatleten. Zo is ook de triathlontas vernieuwd. Aptonia heeft deze keer gekozen voor een neutrale zwarte kleur, in plaats van feloranje. Wat ons betreft een prima keuze!
De triathlontas van het merk is prima voor beginners en amateur triathleten. Het is tevens de goedkoopste tas uit de lijst. Dit betekent niet dat de Aptonia-tas slecht is. De tas bestaat bestaat uit drie vakken: Zwemmen, fietsen en hardlopen. De inhoud is 35L, waardoor het een lichtgewicht overgangstas is voor beginners en iets gevorderde triatleet!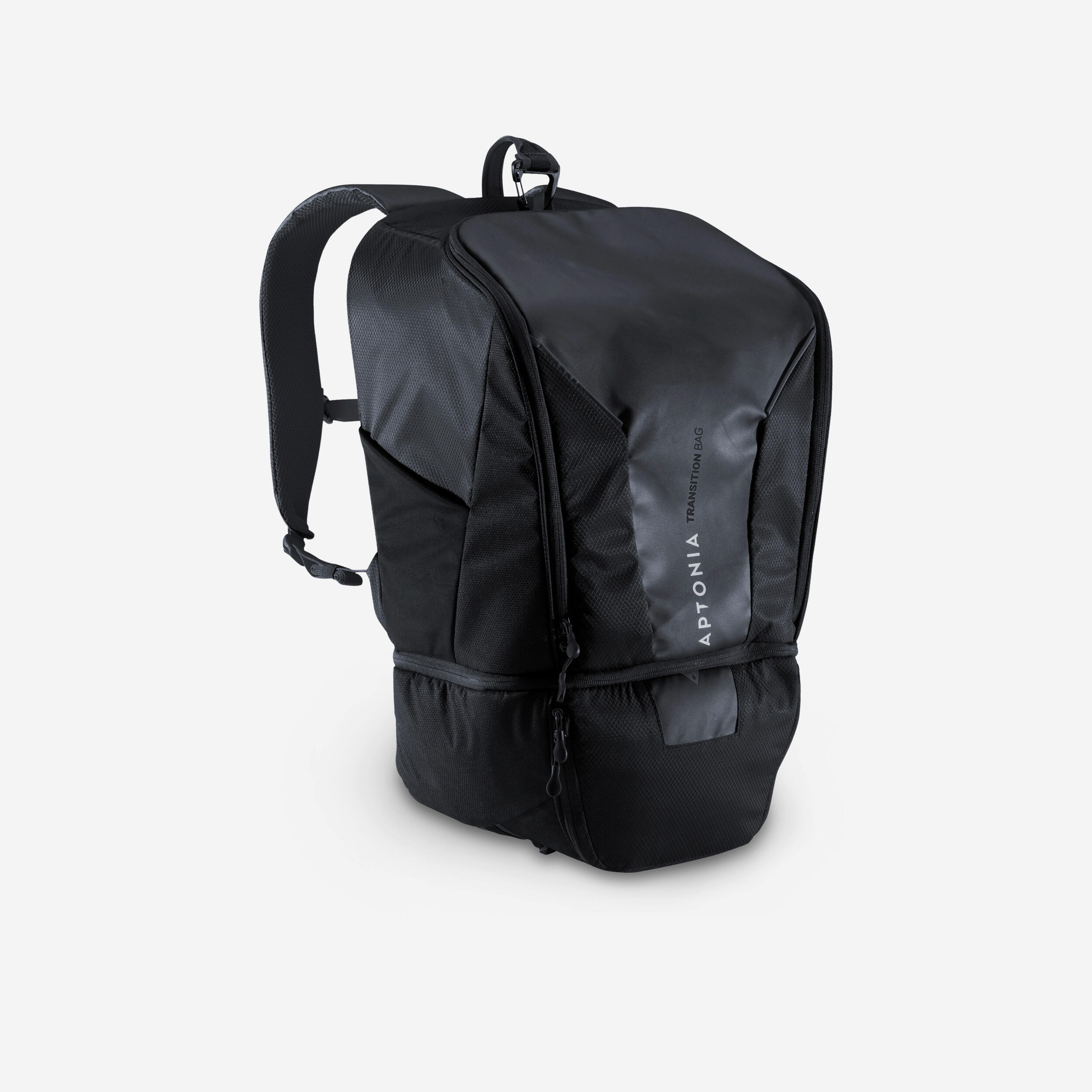 Aptonia Transition bag triatlon Aptonia 35 l
Bekijk
Decathlon.nl
prijs opgehaald op 7 augustus 2020 10:10
Osprey Bigkit Triathlon Transition Bag
Deze exclusieve Osprey Bigkit-reistas is gemaakt van een duurzame nylon dobby-mix die bestand is tegen de ontberingen van veel reizen. Het heeft een ruim ontwerp met een compressieriem om het volume te verminderen. Er zit een speciaal systeem in verwerkt voor de helm, een schoenencompartiment en talrijke externe vakken voor accessoires, flessen, snacks en meer. Bovendien is hij beschermd tegen weersinvloeden om je spullen droog te houden onder zware omstandigheden. Met een inhoud van 85L is dit een van de grootste tassen uit de lijst.
Om ervoor te zorgen dat de tas comfortabel is om te dragen, is hij gebouwd met een opbergbaar harnas en schouderstuk en een verstelbare borstriem, waardoor hij volledig wordt ondersteund. Bovendien is hij afgewerkt met drie forse handgrepen en schouderbanden, zodat je altijd de keuze hebt om hem van A naar B te dragen.
Zone3 Transition triatlontas: 40L en goede reviews
Zone3 wordt door veel triathleten gezien als de gouden standaard op het gebied van triathlontassen. Deze tas heeft een inhoud van 40L. Dit is vaak wel voldoende voor alle spullen. Je neemt dan wel écht alleen het nodige meeneemt. Net als bij andere tassen beschikt de Zone3 Transition bag verschillende compartimenten, heeft het comfortabele schouderbanden en een reflecterende bies.
BlueSeventy transition tas
Wij werden op de BlueSeventy transition bag gewezen door een bezoeker in de reacties onder dit artikel. We hebben zelf helaas deze tas nog niet getest, maar vinden het qua prijs en veelbelovende reviews wel de moeite waard om de tas te vermelden. Qua specificaties lijkt deze triathlontas erg op onze favoriete tas van Zoot. Je kan alle specificaties bekijken en de tas kopen via de officiële website van de maker.
Waar moet je op letten?
De beste triathlontas bestaat uit meerdere componenten, waar je eenvoudig bij kan. Ze zijn zo ontworpen om het gewicht van de uitrusting zo gelijkmatig mogelijk te verdelen. Daarnaast let je op duurzaamheid, kwaliteit van de tas en ritsen en hoe comfortabel de tas aanvoelt als je deze volledig uitgerust draagt. Hieronder lees je een aantal zaken uitgelicht over waar je op moet letten bij het kopen van een triathlontas.
Duurzaamheid op lange termijn
Bekijk goed de materialen waar de triathlontas van is gemaakt. Je kan nooit voor de volle honderd procent zeggen of een tri-tas tientallen jaren mee gaat. Je kan wel een mening vormen door goed te kijken naar de tassen. Alle tassen die wij in dit artikel benoemen zijn stevig en duurzaam gebleken.
Ruime zakken met rits en afneembare componenten
Een echt goede triathlontas heeft een afneembaar component voor natte spullen, zoals een wetsuit. Dit wil nog wel eens ontbreken bij de goedkopere varianten. Daarnaast moet je ook kijken of er voldoende ruimte is om al jouw spullen in kwijt te kunnen. De ritssluiting moet zonder haperen werken. Ook heeft een goede tas een speciaal vak voor natte spullen, zoals je wetsuit.
Triathlontas kopen? Let ook hier op!
Eenvoudig bij je spullen kunnen
Comfortabel hanteren en dragen
Goed bevestigde reflecterende functies voor goed zicht
Een aparte plek in de tas speciaal ontworpen om de fietshelm te bevestigen