Eerder lieten we al een review over het nieuwe triathlonhorloge van Garmin schrijven door een kenner. Daarnaast hebben we een Garmin 945 review geschreven op een andere website binnen ons netwerk .Nu hebben we, dankzij Garmin Nederland, de Forerunner 945 en de triathlonbundel uitgebreid mogen testen. Twee redactieleden hebben het horloge voor een maand gebruikt. Het horloge, met een prijskaartje van €599,99 en €749,99 voor de bundel, is zeker niet goedkoop, maar het horloge zit wel vol met gave snufjes. Hoe Garmin zoveel technologie in zo'n klein horloge heeft weten te stoppen, is voor ons onduidelijk. Wij hebben het horloge laten testen door twee redactieleden: Een beginnende triatleet, die voor het eerst mee gaat doen aan de halve afstand tijdens de Challenge Amsterdam-Almere, en redactielid Henk, een doorgewinterde triatleet, die dit jaar twee halve afstanden gepland heeft. We hebben de basisfuncties getest, maar ook de vernieuwende muziek- en kaartfuncties van de Garmin Forerunner 945.
Mochten jullie nog vragen hebben over dit horloge, laat het gerust weten via ons contactformulier. We hebben inmiddels goed door hoe het sporthorloge werkt, dus waarschijnlijk kunnen wij de vraag beantwoorden of je verder helpen!
Uitpakken en in de doos
We hebben van Garmin Nederland twee 945-horloges gehad om te testen in bruikleen. Eén Forerunner 945 horloge en één keer de volledige triathlonbundel. De twee verpakkingen hebben allebei een andere inhoud.
Forerunner 945 inhoud doos
Garmin Forerunner 945
Oplaadkabel
Documentatie
Triathlonbundel inhoud doos
Garmin Forerunner 945
1 extra set bandjes (zwart)
HRM-Tri™ monitor
HRM-Swim™ monitor
Snelsluitingspakket
Oplaad-/gegevenskabel
Documentatie
Wat valt als eerste op
Na het uitpakken hebben we de eerste meningen verzamelt. Het instellen van het horloge verliep bij de twee testers soepel. De benodigde stappen werden binnen een aantal minuten vlekkeloos doorlopen. Het koppelen van het nieuwe sporthorloge en ontkoppelen van het oude horloge verliep ook zonder problemen. Daarnaast vielen er nog een aantal andere dingen op tijdens het eerste gebruik:
Opladen werkt anders vergeleken met de 735XT
Bijna de gehele redactie van Triathlon365 heeft een Garmin horloge. Vooral de 735XT is topfavoriet. Het eerste dat opviel aan het horloge is de andere manier van opladen. Je laadt het horloge niet op met de knijpermethode. In de onderstaande afbeelding zie je de nieuwe manier van opladen van de Forerunner 945 goed.
Knopindeling is vernieuwd
Henk moest even wennen aan de vele mogelijkheden van het horloge. De knopindeling is iets anders dan zijn vorige horloge. Hij besloot het uit te zoeken zonder de handleiding te raadplegen. Na een kwartier vond hij het wel een enorme vernieuwing. "Wat kan dit horloge veel zeg!", was de eerste voorzichtige conclusie.
Groter en dikker
Het horloge is iets groter en dikker dan de meeste voorgangers. Je merkt dit wel na de eerste keer dragen, maar na een dag heb je het niet meer door. Het bandje dat meegeleverd wordt met beide bundels is iets stugger dan die van de 735XT en voelt robuuster en degelijker aan. Het horloge oogt nog een stuk chiquer dan de 735XT, echt een lust voor het oog! Het horloge is verkrijgbaar in verschillende kleuren (bandjes).
Triathlontraining instellen op de Forerunner 945
Je kan de triatlonactiviteit gebruiken om snel over te schakelen op een ander sportsegment, de tijd van elk segment op te nemen en de activiteit op te slaan.
Selecteer START > Triatlon.
Ga naar START om de timer te starten.
Selecteer aan het begin en eind van elke overgang. De overgangsfunctie kan in- of uitgeschakeld worden voor de triatlonactiviteitinstellingen.
Selecteer STOP > Sla op nadat u uw activiteit hebt voltooid.
Zwemactiviteit meten
Polshartslagmeting gaat niet samen met zwemactiviteiten. Toen we de Garmin 945 triathlonbundel ontvingen, zijn we dan ook direct in het water gedoken. De meegeleverde HRM-Swim™ konden we eenvoudig koppelen aan de Forerunner 945. Op deze manier konden wij een goede analyse maken van onze zwemactiviteiten. Deze werden goed weergeven op Garmin Connect. De band instellen, omdoen en gegevens verwerken verliepen allemaal soepel.
Let op: Het toestel is uitsluitend bedoeld voor zwemmen aan de oppervlakte. Duiken met het toestel kan schade aan het toestel veroorzaken en leidt ertoe dat de garantie komt te vervallen.
Hartslagbanden HRM-Tri en HRM-Swim
Bij de triathlonbundel worden er twee heart rate monitors (HRM) geleverd. Wij hebben de twee hartslagsensoren uitgebreid getest. Het koppelen van de hartslagmonitor met het horloge is erg eenvoudig.
De hartslagmeter zit tijdens het zwemmen en hartlopen niet in de weg en je merkt al snel niet meer dat je de hartslagmeter om hebt. De meting is beter dan de polsmeting van het horloge zelf, maar lijkt tijdens onze tests niet eens zoveel af te wijken van de normale hartslag tijdens trainingen van de testers. Belangrijk is wel om de juiste zwembadlengte in te stellen op het horloge zelf, anders klopt er weinig van alle gegevens die het horloge meet. De gegevens worden in eerste instantie opgeslagen op de hartslagmeter zelf en daarna met de telefoon en Garmin Connect gesynchroniseerd.
Fietsen
Voor het fietsen moet je niet vergeten het horloge op activiteit fietsen aan te zetten. Dit overkwam een tester van het horloge. De tweede rit stond de activiteit wel netjes aan. De Garmin Forerunner 945 meet alles wat er maar te meten valt en doet dit ook goed en nauwkeurig. Dit waren we natuurlijk ook al gewend van de 735XT. De gegevens worden -na de activiteit- netjes gesynchroniseerd met Garmin Connect.
Bij de bundel wordt een houder voor het horloge meegeleverd die je op de fiets kan monteren. Deze kun je eenvoudig op een racefiets zetten. Je kan via horloge zelf instellen wat je op het scherm wilt weergeven tijdens de fietsactiviteit.
Kaartfunctie
Het horloge kan kaarten in kleur weergeven op het horloge. De kaarten kan je van tevoren zelf inladen of je kan live met je route zien tijdens verschillende activiteiten. De kaartfunctie hebben wij niet veel gebruikt, omdat alle tests hebben plaatsgevonden op bekend terrein. Het is wel handig als je op onbekend terrein een activiteit aan het doen bent en de weg kwijt bent geraakt. Ook zie je op de kaart verschillende plekken in de buurt, denk daarbij aan parkeerplaatsen, supermarkten, recreatieplekken en sportfaciliteiten.
Conclusie
De Garmin 945 is een van de beste triathlonhorloges die je op het moment kan kopen. Bezit je nu een 935, dan kunnen wij voor de triatleet niet veel redenen bedenken om een 945 te kopen. De toegevoegde waarde van de muziekfunctie, kaartfunctie en Garmin Pay vinden wij nog niet voldoende om te switchen van een 935 naar 945. Toch zijn er ook redenen te bedenken om een overstap te kunnen rechtvaardigen. Zo heeft het nieuwste model een pulse oximeter, is het beter bestand tegen diep water, heeft het een betere satellietverbinding en is het glas gemaakt van een sterker materiaal.
Heb je echter een ouder model Garmin (of ander merk) en wil je het beste triathlonhorloge kopen? Dan is de 945 erg goed geschikt. Het meet alles wat je wil weten tijdens een training. Voor een volledige meting kan je het beste trainen met een van de twee hartslagbanden. Deze krijg je er bij de triathlonbundel bij. Zo kun je onder andere tijdens het zwemmen je hartslag meten, je omslagpunt berekenen en wedstrijdvoorspellingen en prognoses uit laten rekenen. Onze twee testers zijn het er unaniem mee eens: Dit is het beste triathlonhorloge waar zij tot nu toe mee hebben getraind.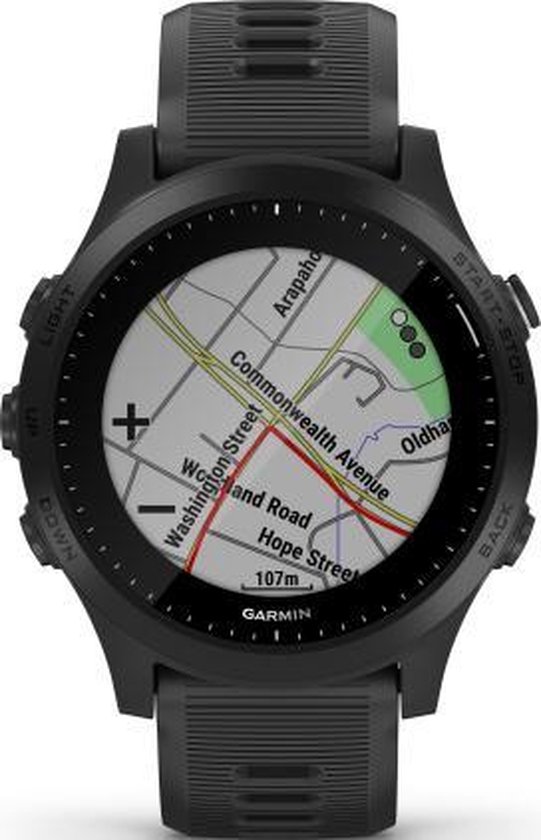 Bol.com
€586,09
op voorraad
2 nieuw vanaf €586,09
prijs opgehaald op 27 september 2020 13:32
Amazon.de
Gratis verzending
€695,00
op voorraad
17 nieuw vanaf €695,00
prijs opgehaald op 27 september 2020 13:32
Amazon.de